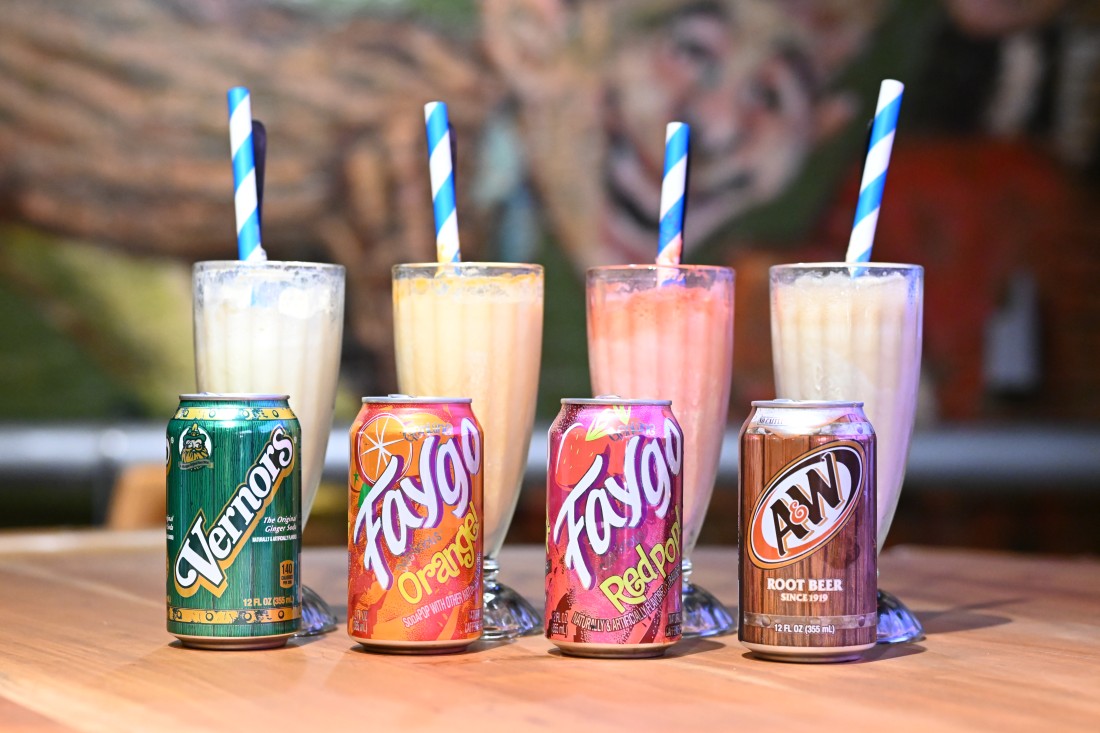 How does the saying go again?
"You scream, I scream, we all scream for ice cream!"
Ah yes, the ever so popular summer treat—ice cream. Whether you have fond memories of chasing down the ice cream truck as a child or still get excited when you walk down the frozen treat aisle at the grocery store, one thing is for certain, we all love ice cream. Even the lactose-intolerant still indulges in the creamy goodness. But what does ice cream have to do with The Corner in Ferndale? We're glad you asked!
Here at The Corner, we don't just feature a basic dessert menu. Oh no! We're bringing back the novelty of old-fashioned diners with our drink-dessert hybrid, the ice cream float. Naturally, we have to add a classic Detroit twist, but we're getting ahead of ourselves. Let's first take a look at how this delicious icy offering first came to be.
The Invention of the Ice Cream Float
The ice cream float was invented in Pennsylvania in 1874 by drugstore clerk Robert McCay Green, and that's all we know for a fact. If you search "When was the ice cream float invented," you'll find a variety of blog posts, news articles, and everything in between talking about Robert Green and his glorious invention. But, the true story of how he came to discover this combination is completely unknown.
Stories claim:
Green was in charge of manning the soda fountain booth at the World's Fair and bought himself an ice cream. He then got the urge to add the ice cream to the soda.

It was during the Franklins Institute's 25-year celebration, and he ran out of ice. Instead of finding more, he used vanilla ice cream from a neighboring stand.

He ran out of cream that he used in his sodas and substituted it with vanilla ice cream.

While operating the soda fountain, he wanted to attract more customers and lure them away from vendors with larger, fancier machines.
However the ice cream float was born, we truly thank you, Robert Green. After he realized customers enjoyed the creamy, frothy beverage, he started selling them regularly—offering vanilla ice cream with soda water and 16 flavored syrups to choose from.
The Root Beer Float Emerges On the Scene
Welcome to 1893, where the "Black Cow" is a raving success. No, we're not talking about an actual cow. We're referring to the root beer float, which first came about in a mining camp in Colorado. Invented by Frank J. Wisner, the original root beer float was created by sheer happenstance. While thinking about the line of soda waters he was producing for the citizens of Cripple Creek, CO, he decided to combine vanilla ice cream with Myers Avenue Red Root Beer. And there, in the dead of night at the base of Cow Mountain, another American staple was born.
The best part? A little over 130 years later, we're still enjoying these novelty dessert beverages. In fact, you and the whole family are invited to come and celebrate National Root Beer Float Day with us in Ferndale on August 6th.
Ice Cream Floats in Ferndale, MI
What's your pop of choice? Whether it's root beer, orange, cola, or classic soda water, we guarantee it'll taste better with ice cream in it. Oh yes, you guessed it. We put ice cream floats on the menu at The Corner, and we're serving them up all summer long! Enjoy two heaping scoops of vanilla ice cream in a tall, diner-style glass, and top it off with your choice of traditional Detroit sodas.
Our four ice cream float flavors are:
The Brown Cow (Faygo Root Beer)

The Boston Cooler (Vernors)

Dreamsicle (Faygo Orange Soda)

Red Balloon (Faygo Red Pop)
Alright, you've convinced us, we'll do it—we'll add a shot of whatever liquor you choose to your ice cream float for that extra bit of attitude. But remember, it's going to be an extra charge for booze.
Enjoy a Scoop and a Sip at The Corner in Ferndale, MI
Whether the Michigan heat is starting to get to you or you're just looking for a refreshing mid-week treat, The Corner is here to bring you all the nostalgia. We don't just stop at classic ice cream floats with a Detroit twist. We've got games you likely haven't played since childhood, trivia that will have you wishing you could phone a friend, and bar bango for all those old-school tunes you miss hearing on the radio.
The next time you're in the Ferndale area, come hang out with us at The Corner! We'd happily show you our extensive game room and serve some delicious snacks.
Cool Down This Summer With Floats in Ferndale
The Corner in Ferndale is one of Metro Detroit's best bars, offering unique experiences, tasty food, a giant board game room, and of course, savory ice cream floats. Bring your friends and family, or fly solo to one of the most talked about bars around town and enjoy an atmosphere designed for meeting new people, laughing, and having a memorable time. Call us at (248) 291-5470 to reserve your spot at one of our game tables or ask about our menu options.